Brother XP1 luminaire Sewing & Embroidery Machine



With world first StitchVision Technology, the
 Innov-is XP1

 Luminaire projects embroidery designs, multiple quilting guides and sewing stitches onto fabric. 1100 embroidery designs. 27 x 40cm embroidery area. 821 sewing stitches. WLAN data transfer. 13inches from needle to arm. 10.1inch touch-screen with 34 built-in movies.
---
There's a new star in the sewing world. And it will help you shine. Presenting the Luminaire Innov-ís XP1. Adorned with revolutionary StitchVision Technology which, through an innovative projection of light, allows you to find perfection in every stitch. It's an enlightened sewing, embroidery and quilting experience, powered by technology that's light years ahead.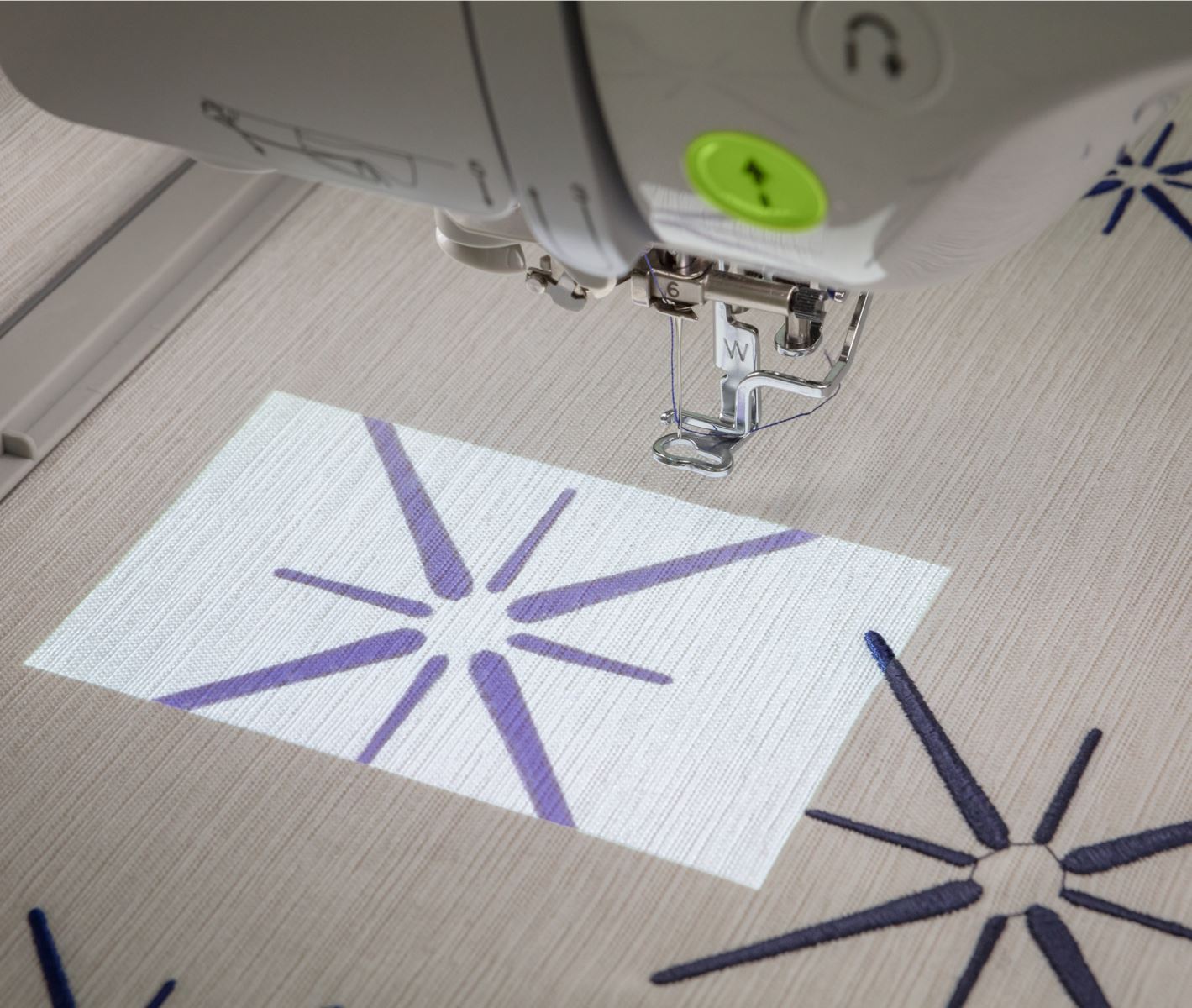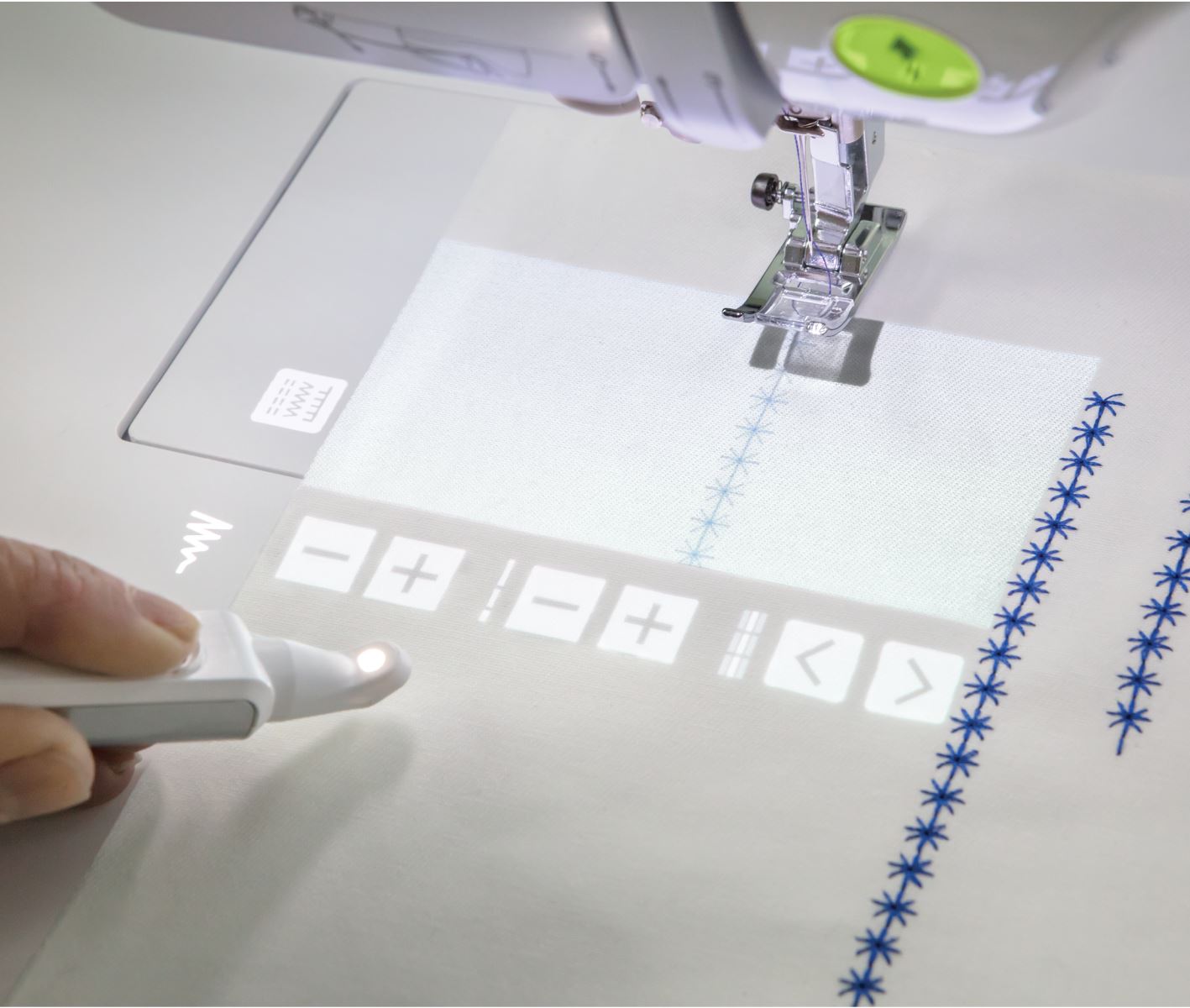 Revolutionary 
StitchVision

 Technology

Clearly preview stitches and embroidery designs directly on your fabric with this intelligent projection system. Preview, audition and edit your designs and stitches in a 12.7cm x 7.6cm virtual preview area.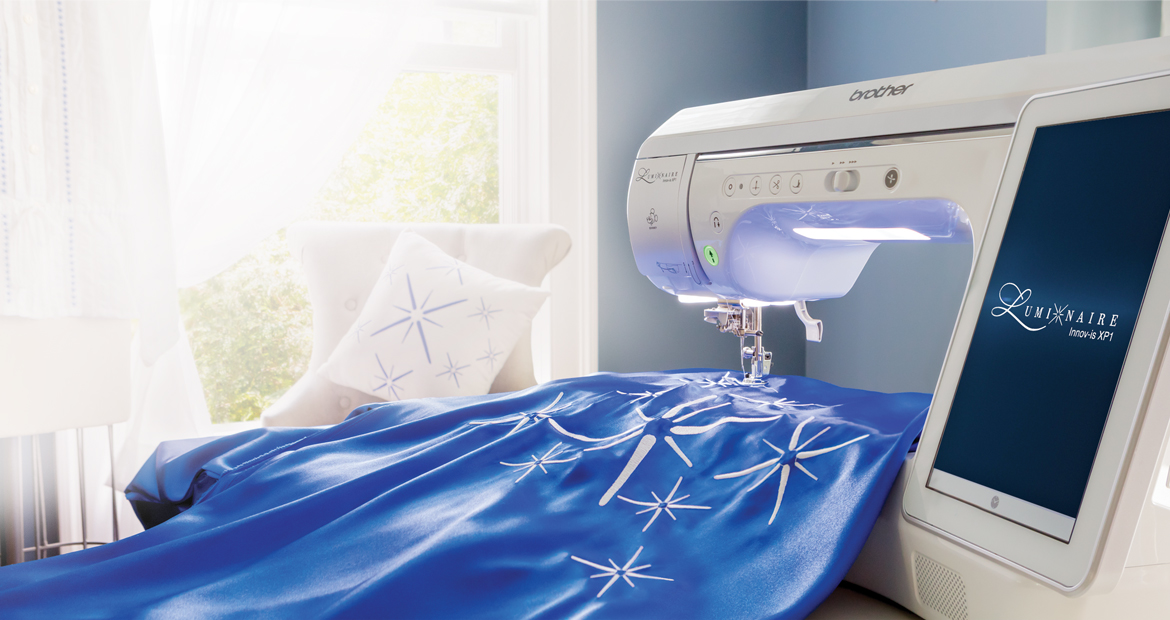 STITCH PRECISION WITH NEW STITCHVISION TECHNOLOGY
Introducing StitchVision Technology, a revolutionary new system for virtually perfect stitch positioning* and more precise previews via an intelligent projection of light. Preview, audition and edit designs and stitches directly on your fabric.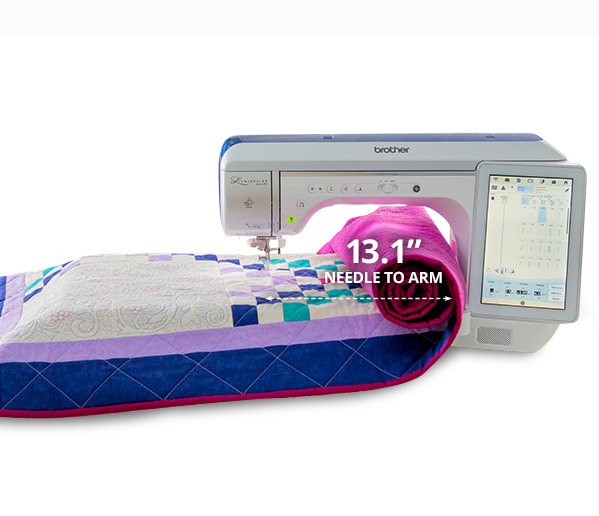 65 SQUARE INCHES OF WORKSPACE
13.1″ NEEDLE TO ARM SPAN
Experience the freedom and comfort of sewing on 65 square inches of included workspace, giving you the power to handle virtually any project with ease. A generous needle to arm distance of 13.1″ is our largest ever, able to fully accommodate a rolled king-sized quilt.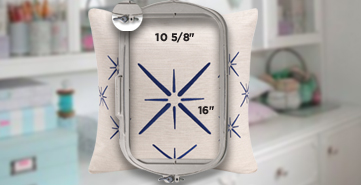 LARGE 27cm x 40cm
FRAME
Make your projects larger than life with the new large 27cm x 40cm frame, the largest that Brother currently offers. This extra-large frame has efficient rubber plates on both sides of the inner frame to hold fabric securely.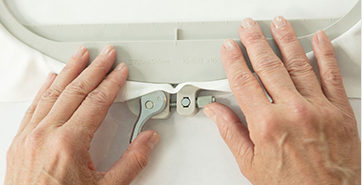 SPRING LEVER RELEASE
A new ergonomic Spring Lever Release enables easier, clamp free hooping. Simply place your fabric in the hoop and engage the lever.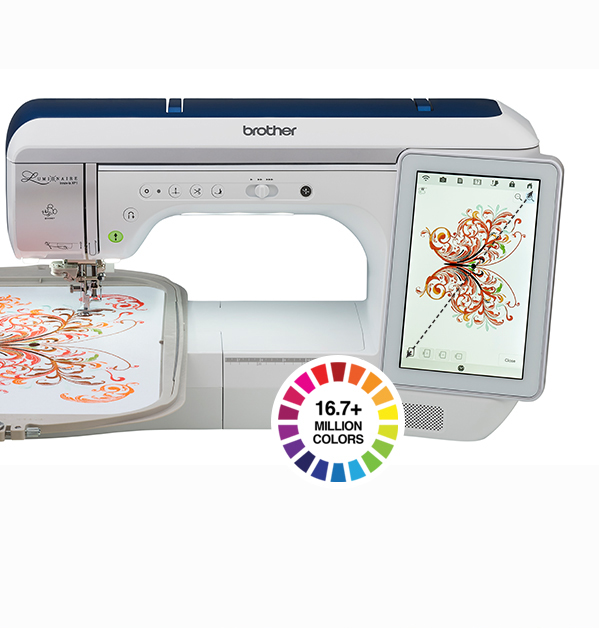 LARGE 10.1″ HD LCD TOUCH SCREEN DISPLAY
WITH CAPACITIVE TECHNOLOGY
The simple and intuitive 25.6cm capacitive touchscreen works like a tablet with familiar sliding, swiping, scrolling and pinch-to-zoom for viewing detailed steps, categories and designs. The user interface offers large, defined crystal-clear icons, and colour navigation for easy viewing.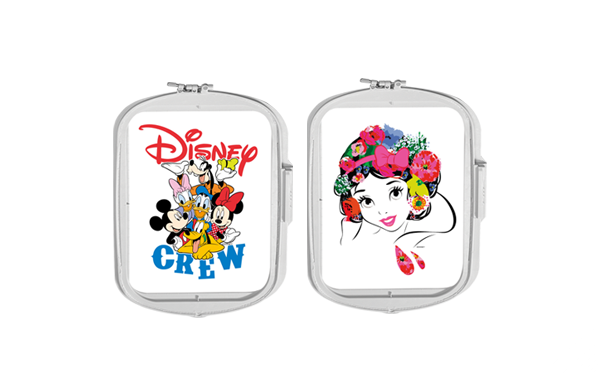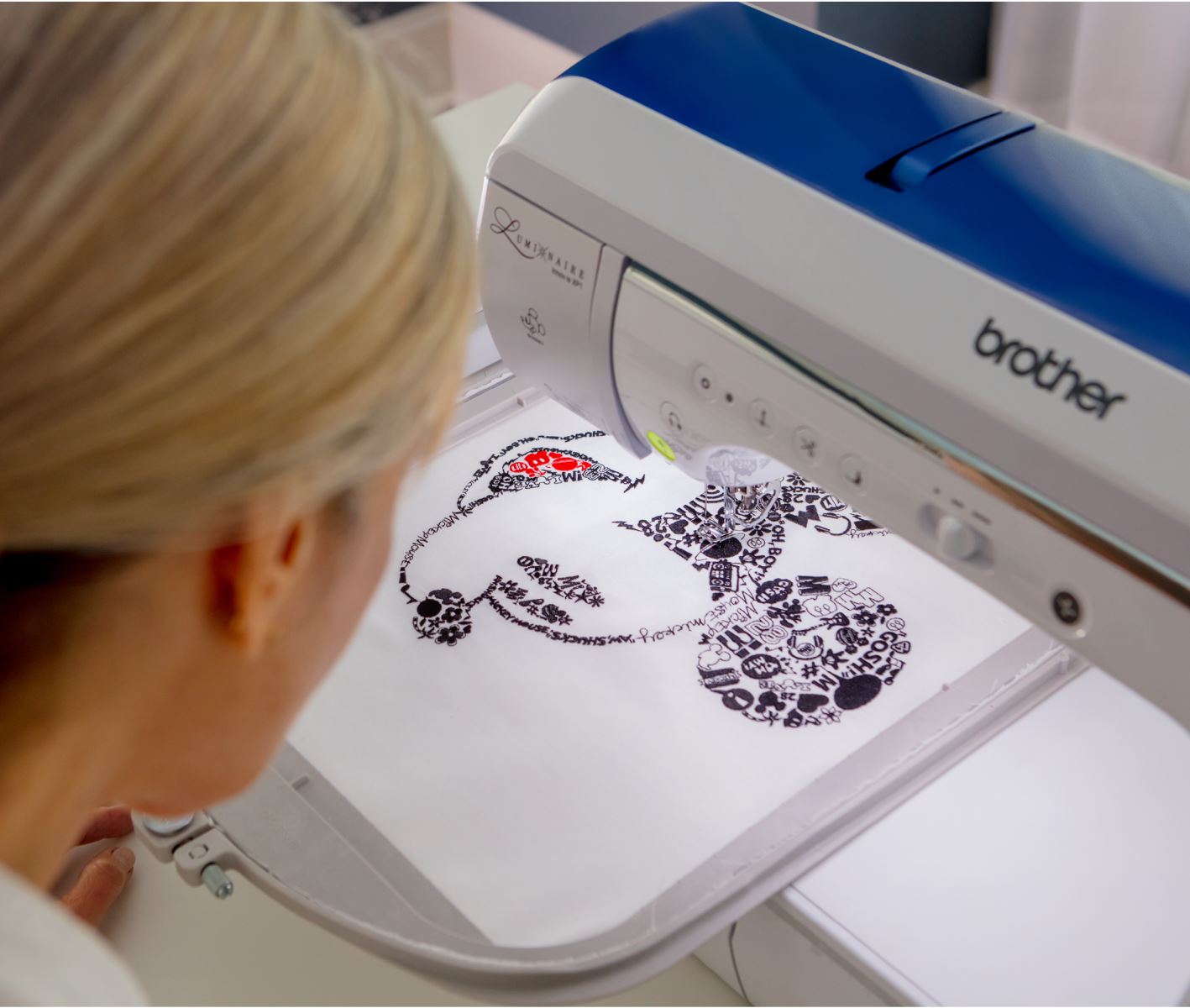 DISNEY IS IN OUR DNA
The Luminaire has the magic of 192 built-in Disney embroidery designs and 10 decorative Disney stitches. Additionally, access exclusive Disney and Disney. Pixar embroidery designs through the iBroidery.com Download Center.*
*Additional purchase required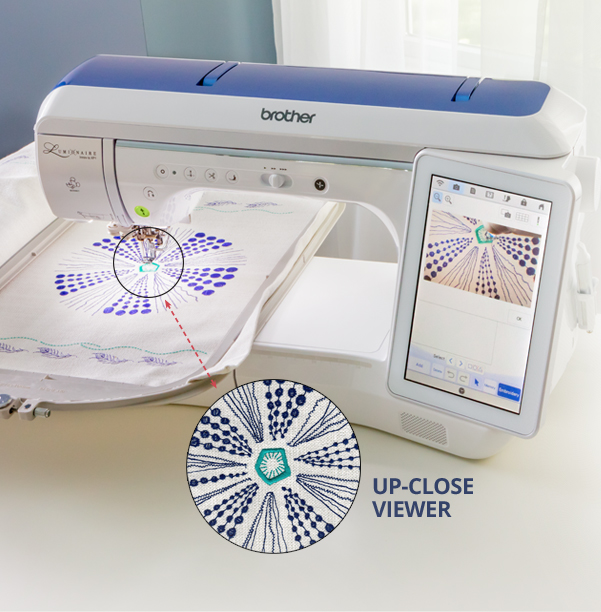 ENHANCED INNOVEYE
PLUS TECHNOLOGY
WIDER VIEW AND FASTER SCANNING IN HIGH RESOLUTION
It's like having a built-in camera and scanner! The ability to scan the entire embroidery area provides virtually endless creative options and helps ensure that all your projects are perfect.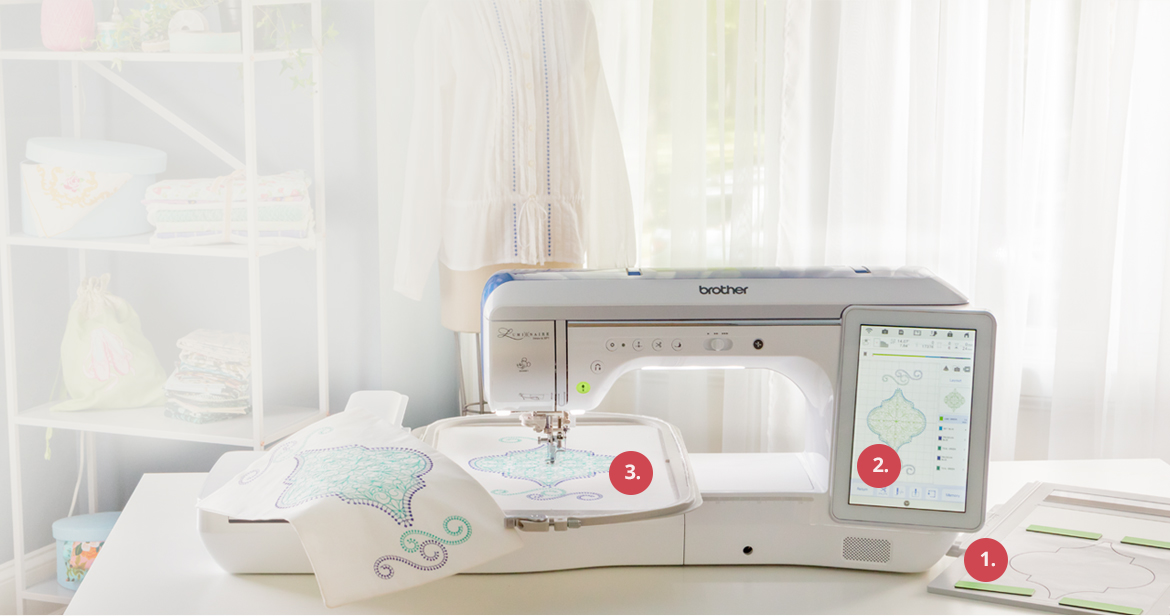 MY DESIGN CENTER
Enhanced My Design Center integrates with our industry-first InnovEye Plus Technology to offer design capabilities at your fingertips, all without a PC. It's a great way to create custom personal works of art and a really fun way to create embroidery!
Scan it
Convert it
Embroider it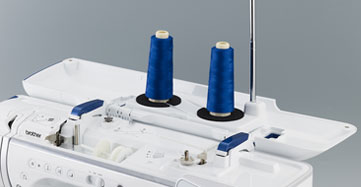 DUAL KING SPOOL THREAD STAND
Open the top cover to easily attach the included magnetic Dual King Spool Thread Stand. This space-saving innovative stand helps ensure proper thread delivery as well as prevent broken stitches and uneven tension.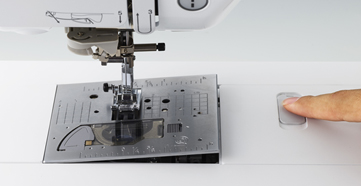 ONE ACTION NEEDLE PLATE
This thoughtfully designed feature allows for quick needle plate changes without the use of a screwdriver. No need to remove your extension table, embroidery unit or accessory tray – saving you time and effort for a seamless sewing experience.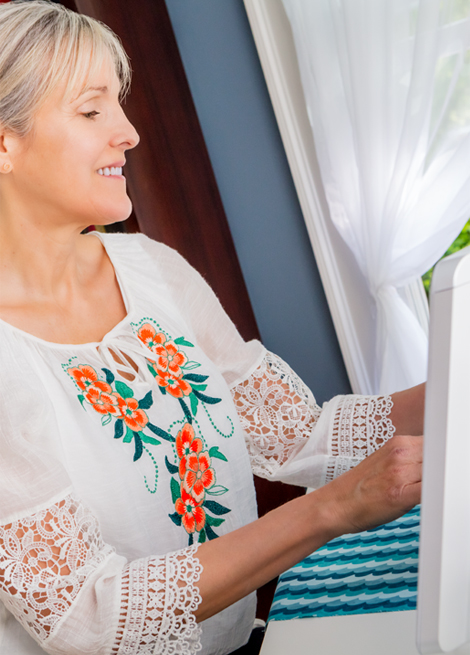 BUILT-IN EMBROIDERY DESIGNS AND SEWING STITCHES
Let your imagination and creativity run wild with the extensive library of over 1,100 built-in embroidery designs, including Disney, Anna Aldmon, Zundt, ZenTangle and Pierre Joseph Redoute.
1,157 BUILT-IN EMBROIDERY DESIGNS
192 DISNEY & PIXAR CHARACTERS
670 BUILT-IN DECORATIVE STITCHES
10 DISNEY SEWING STITCHES
24 EMBROIDERY LETTERING FONTS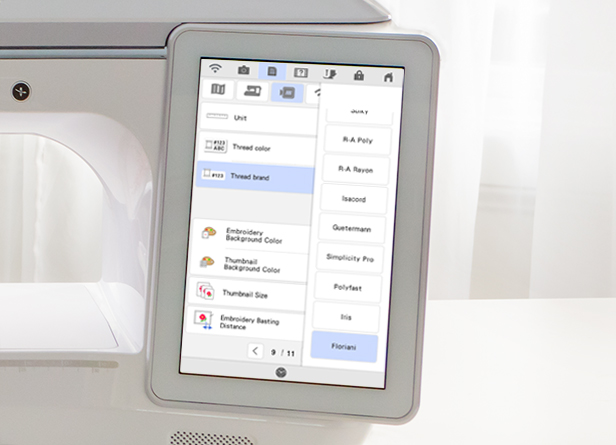 ENHANCED THREAD COLOR PALETTES
Our already generous thread colour palette has been enhanced with the addition of Iris, Floriani, Simplicity, and Polyfast brands.
Brother Luminaire Innov-is XP1 Videos
| | |
| --- | --- |
| Brother Luminaire Innov-is XP1 Overview | Enhanced My Design Center |
| Stitchvision Technology and Dual Purpose Stylus | Large 10.1" Capacitive Touch Screen LCD Display and Onscreen Editing |
| Echo Quilting | New Built-in Designs and Decorative Stitches |
| Buttonhole Size Detection with InnovEye Plus Technology | Fast and Easy Bobbin Changes and Needle Threading |
---